As I reflect on my past year, I thought I would share an opportunity I had this summer to demonstrate Boccia, and meet some amazing up and coming athletes with disabilities – in warm and beautiful Bermuda.
Windreach, an amazing facility, on the relatively small island of Bermuda exposes people with disabilities to all sorts of recreation – including competitive sport. A beautiful farm property, it is host to Equestrian events, community programs, an integrated camp experience and adapted sport opportunities.
I was invited to demonstrate Boccia and hold a recreational tournament at the 2009 Adapted Sports Program Expo and later, a local group home for people with disabilities.
I love giving back to a sport system, no matter what country it is in, that has given me so much. Paralympians Darda Geiger, Jessica Matassa and Anjali Forber-Pratt were also invited by Windreach to demonstrate their respective sports of Swimming and Wheelchair Athletics.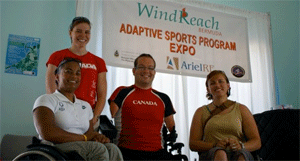 Local athletes competed in swimming, wheelchair racing, wheelchair archery, para-equestrian and boccia. It was an amazing experience, and I think we four international athletes came away quite inspired by the up and coming athletes of Bermuda, in whom we saw a little bit of ourselves.
The entire island loves sport, and especially Paralympic sport. I stayed after the Expo for a few days and was enjoying a weekly street festival full of Bermuda arts and food – many people recognised me from a profile in the local newspaper. A reporter from the Bermuda Sports Network who had been covering the Expo recognized me too, and we did this interview on the spot:
This event combined my passion for sport, empowering people with disabilities, and international co-operation. I also made many great new friends from across the world.
A success, I would say.