The stadium in Athens was at its capacity – 85 000.  As I lined up with my fellow Canadian athletes, I could hear the roar of the crowd.  It was muffled.  We were outside the arena and the air was not still.  It shook.
When I crossed the threshold, saw the mass of people celebrating, and heard the deafening cheer of voices pounding elite athletes from around the world, I smiled.  I had made it.  I represented Canada at the 2004 Paralympic Summer Games in Athens, Greece and finished amongst the top Boccia players on the planet.
Some years earlier, my mom Sandy, came out of the caesarean delivery of her first-born very groggy, as her husband Gary waited eagerly in another room.  My mom had had an uneventful pregnancy and had to deliver me caesarean style, because I was breech.  As she shook off the drugs, she asked the nurse: "Is it a boy?"  The nurse replied that it was, with a small smile.  Sandy then asked: "Does he have any hair?"  The nurse didn't know – she was preoccupied with other, seemingly disastrous features.
The doctors explained to my parents that I had been born missing all of my limbs and gave a prediction of my future so bleak that my parents blurted out: "Is he going to die?!"  The doctors, a little surprised, laughed and said no that I was perfectly healthy, just without most of my arms and legs.  My parents wanted to see me.
When I was brought out to them for the first time, they both took turns kissing me all over and telling me that they loved me.  They spent the rest of my life, so far, showing me.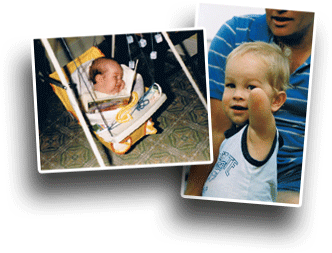 They encouraged me to set hard goals and do what it takes to achieve them.  Instead of putting me into a segregated school for children with disabilities, like the experts advised, my parents – unilingual English speakers – enrolled me in a local French immersion school so that I would have a bit more of a challenge!
As I grew, I became interested in physical activity.  I joined a swim team for athletes with disabilities and soon competed in Swimming, Shot Put, Discus and Javelin.  Then I discovered Boccia – the international Paralympic indoor version of the Italian past time – and was hooked on the intense skill, precision, strategy and competition of pushing myself to get better and better.
Not having hands or full legs presents many tough obstacles.  And, like any obstacles that seem insurmountable, they can be shattered.  Some I overcame naturally: I learned to write, play and draw by watching my friends.  Others I had help with before I could help myself: my dad built me parallel bars and my mom encouraged me to use them to practice walking upright.  Other obstacles, I stared at head on and came up with solutions: learning to dress myself when I was 13, becoming an early riser in my mid twenties, and the more recent realisation that what others think about me, doesn't matter.
I love not having arms and legs, and I love myself (maybe too much – ask anyone who knows me!).  I love the things I can do.  And, I love the things I can't do, yet.
You should love yourself too.  No matter what circumstances you find yourself in, you have the ability to surprise yourself.
Sometimes I wonder whether or not I have an effect when I visit schools, or speak to audiences.  My partner, Dalia, and I were watching a show at the Vancouver Centre for the Performing Arts, and at intermission a couple I didn't recognise, approached us.  One of them was a teacher at a local school I had presented at; she told me that the students were organising a sports day – several months after I had presented – and they insisted that Boccia be included in the program.  An outdoor version was included, and was a great success bringing students of all abilities and backgrounds together in friendly competition.
Sometimes I surprise myself.
At a recent corporate presentation, the nicest lady approached me afterwards in tears and told me that my message had affected her in a very personal way.  Neither of us could find the words to express ourselves further, so we hugged and smiled and cried.
Sometimes I really surprise myself.