In the middle of an epic tour through the east of Canada, I departed Montreal after a successful Canadian Paralympic Committee board meeting, flew into Billy Bishop Airport and accepted the prestigious 2012 ParaSport Ontario Male Athlete of the Year Award in downtown Toronto.  I was incredibly honoured to learn I had been awarded this important award several weeks ago and worked hard to fit it into my schedule.
ParaSport Ontario organises multi-sport games for athletes with disabilities in Ontario.  As readers of my blog will know, I started my competitive athletic career in the pool and competing in athletics throwing events.  When I was competing in Ontario multi-sport events as a young athlete, I saw boccia being played and immediately wanted to try it.  In light of its elegance, I fell in love with the sport, and the rest is Paralympic history.
Rob Snoek, Paralympian and journalist gave the keynote at the event.  He evoked the brilliant performances of our Canadian Paralympic team in London and adapted a quote from my teammate Marco Dispaltro, challenging sport organisations, their members and donors to be "conservative with a dash of brilliance.  And remember not to be too timid," when building a sport system that will produce future Paralympic champions and Canadian leaders.
It was great to share the award with my family – my parents who have supported and pushed me over years, my brother who traveled with me through Europe this summer preparing for the London Paralympics and brought my game to a new level, and my Aunt, Uncle and some of my cousins from Toronto.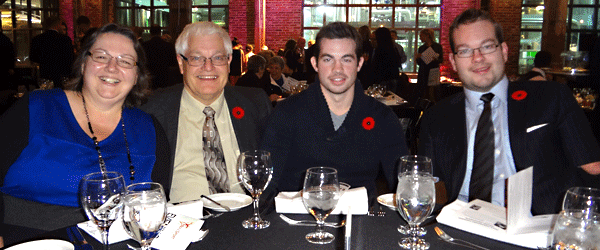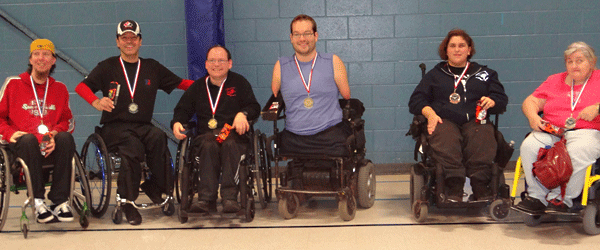 Then we drove to London, ON where I contested one of Canada's three major tournaments of the year, the Boccia Blast.  I pulled off a gold in doubles with partner Serge Bureau – we defeated Marco Dispaltro / Mark VanStrepen and Caroline Vietnicks / Julie Merrigan.  Over the next two days, I played solid boccia and won silver in singles.  Marco played with his usual flair and seized well deserved gold.
Sunday night, the journey continued as the whole family headed to Sarnia, and I spoke to a great group of supporters and family at Pathways Health Centre for Children.  Tomorrow, I lead two assemblies at my alma mater Northern High School.  The epic eastern Canadian tour rumbles on.  I fly west Monday night.
I am truly so happy to be awarded ParaSport Ontario Male Athlete of the Year.  Along with my National and Provincial sport organisations, ParaSport Ontario played a huge role in my sport and life development.  In honour of the award, please consider donating to my Chimp fund – all proceeds go to my provincial and national boccia organisations and you will be provided an online charitable receipt.