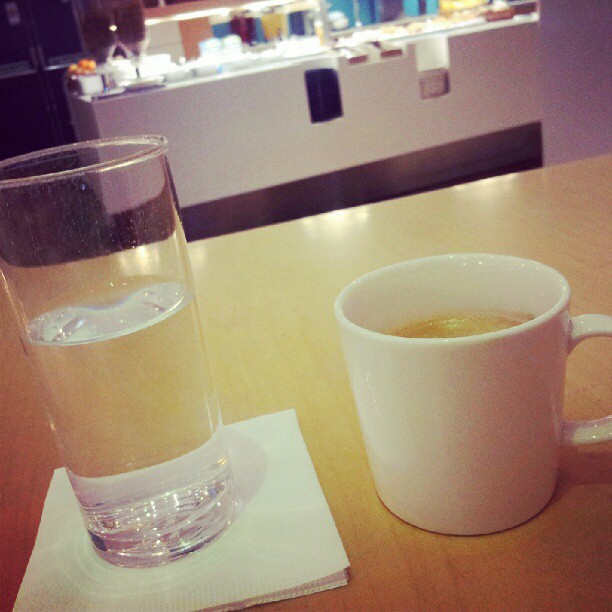 I remember starting to see all of the hipster tinged pictures showing up in my Twitter and Facebook feeds many months ago.  It was likely around the time that Facebook acquired Instagram for $1 billion, that I realized what those sepia filtered photos were.  Naturally, I decided to get an account and create my own.
I made the decision sitting in the Air Canada London Lounge at Heathrow Airport.  It was after a week of speaking to elementary schools in East London, around where the Olympics and Paralympics would soon take place.  My thoughts were swirling, as I was glowing in the excitement of all those students, and gearing up to compete myself.
So, I photographed the coffee and water I was drinking, framed the table and background at an angle and applied the glorious filter, before posting to Instagram, Facebook and Twitter.  Drafting the caption was part of the thrill:
"My last European coffee for a while"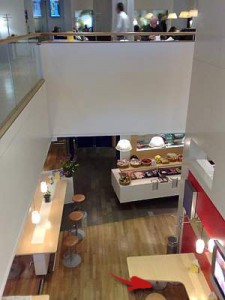 It was also Canada Day.  So, I reflected on Britain's role as a former Empire, and Canada's journey away from associating itself as a colony – luckily, and with lots of help from Britain's enemy, France and their satellite people, Quebec.  The snapshot oozes nostalgia for me.  I am not afraid to embrace the full power of the Nickelback Instagram parody (Google it if you have not seen it yet).
Today, I researched what the Air Canada lounge is called at Heathrow, and learned that it will be closing soon.  I took the photo from where the arrow is pointing in the photo.  The nostalgia meter for this very first Instagram photo I took was cranked up even more.
It captured my anxiety about putting my years of boccia training to the test.  It reminds me of the Canada Day I spent in the British Empire's former capital and how I felt glad to be Canadian.  It celebrates the rich and bold quality of coffee available seemingly everywhere in Europe, and expresses my anguish at having to return to a land where most coffee is barren and largely not delicious.
I am not sure if I can produce another Instagram picture with as much raw meaning.  I hope you will click the main photo above and follow me on Instagram as I try.
What is your favourite Instagram photo?