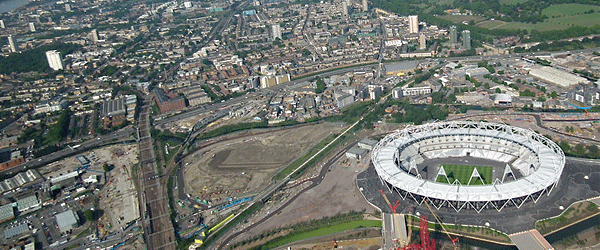 With just 100 days to go before the London 2012 Paralympic Games, it feels great to announce that I will spend the end of June leading motivational assemblies in various London schools – in the Olympic Park area.  An old Canadian high school friend of mine, who now works in London as a teacher, asked me to speak at her school.  I jumped at the chance and she put me in touch with a group of teachers who are champions of Olympic and Paralympic Values, in the London Borough of Newham.
Soon, I got in touch with many passionate teachers and a week of exciting presentations unfolded.  To date, I will be speaking at Central Park Primary School, Colegrave Primary School, Avenue Primary School, Essex Primary School, and Kingsford Community School.  My agenda will include visiting classrooms to inspire students individually and attending events that schools have underway to celebrate the excitement of London 2012!
This will be my first time in London, and I can not wait to meet with and learn from students there, like I do from students in schools across Canada.  Most importantly, I am excited to show them the sport of boccia, let them try it out, and give them a new favourite sport to watch for during the Paralympics.
I can feel the excitement in London for the Olympic and Paralympic Games across the ocean here in Canada.  It will be great to be in the thick of it at the end of June.  I spoke in several schools in Vancouver leading up to the Winter Games in 2010 and I know that London students will be just as excited!
A very limited amount of time slots are left during my time in London for a motivational assembly or keynote presentation at schools, businesses or associations between 26th June – 29th June.  To learn more about my message of being born without arms and legs, going on to compete on the World stage, studying at a high level and shattering obstacles, see how I Motivate Audiences.
With just 100 days to go before the Paralympics, I am tightening up my game, strengthening my body and mind, and getting ready to compete.  The pressure and excitement is on!  So is my focus.