VANCOUVER, September 11, 2013 – London 2012 Paralympic bronze medalist in boccia BC4 mixed pairs and UBC Law student, Josh Vander Vies, hosted an innovative fundraising event on August 29 – the Boccia Throwdown.  So far, it has raised $7,360 in much-needed funds for his Canadian Boccia Team, while rallying the community to support them as they take on the world.
"Being an elite athlete is expensive," said Vander Vies, "and while many of our costs are covered by our National Sport Organization (NSO), our team still needs to find more than $22,000 from our own pockets this year to compete for Canada.  Along with our own living and training expenses, that means we have to rely on our friends, families and communities to keep roofs over our heads and healthy food on our tables.  It felt great to know I had amazing people behind me when I was on the Paralympic courts in London, and I was proud to support my teammates through this fun event, building an even stronger foundation for our future".
The money raised will also fuel competitions, training opportunities, equipment, sport science and other needs of the Canadian team as they head towards Rio 2016.  Champions in Sport, a Vancouver-based foundation for athletes and NSOs, powered the logistics of the Boccia Throwdown.  Moksha Yoga East Vancouver, Hootsuite, Canadian Sport Institute Pacific, Anthony Seamen Ltd., Charity Express, Benefic, Peer Giving Solutions and Investors Group sent teams to battle each other at Creekside Community Centre in indoor boccia action, raising funds for Canada's best boccia players.
"Investors Group considers it an honour to support Canada's elite athletes like Josh Vander Vies through our Investors Group Bursary program," said Sharon Moskalyk, Vice President, Financial Services.  "When the opportunity presented itself to be a part of a community fundraiser like the Boccia Throwdown for one of our bursary recipients, we were thrilled to participate.  Challenging the other team is great fun when you have Josh as your partner and coach!"
Boccia is a precision sport, similar to lawn bowling, curling and chess, played indoors in over 50 countries and is one of the three Paralympic sports that do not have an Olympic counterpart.  It is one of the most inclusive sports that exist: an elegant game that combines strategy and skill with physical precision, not necessarily strength.
The Boccia Throwdown also enjoyed significant online donations from fans that could not attend or simply spectated.  Maria Senajova, Realtor at RE/MAX Crest Realty Westside said, "when I saw Canada's top boccia players in action and the precise skill it takes to be the best in the world, I felt pride knowing they live in my community and with our support they go beyond their limits and beyond our own. I've gained a new appreciation for our Canadian elite athletes; supporting them is such an honour.  I am already looking forward to the next Throwdown".
Online donations will remain open at https://chimp.net/groups/boccia-throwdown until September 19 at 1pm when Vander Vies will announce the total funds raised at a small ceremony at Suite 1250 – 1500 West Georgia Street; the media is invited and encouraged to attend.
PHOTOS – click link for high definition.  Please credit: "Photo: Champions in Sport"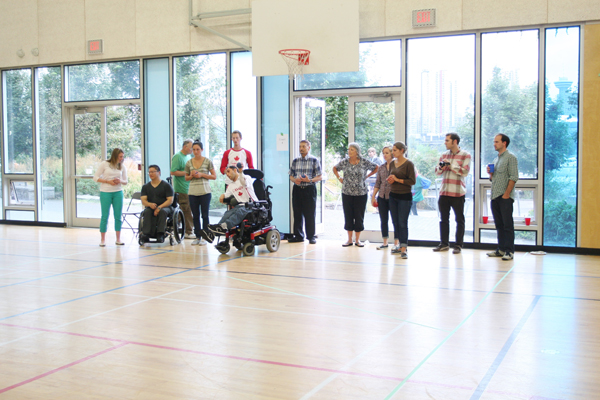 Canadian athletes from the national boccia, women's field hockey, and athletics teams face-off in indoor boccia as team "Jack Smashers" against team "Drunken Debocciery" from Benefic, Peer Giving Solutions and Charity Express.  Photo: Champions in Sport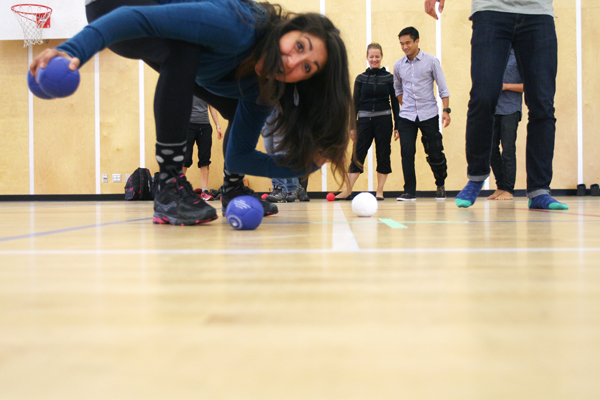 A player from Moksha Yoga East Vancouver's "Todd and the Hot Toddies" team has fun planning her shot as Hootsuite's team "FunBoys" looks on.  Photo: Champions in Sport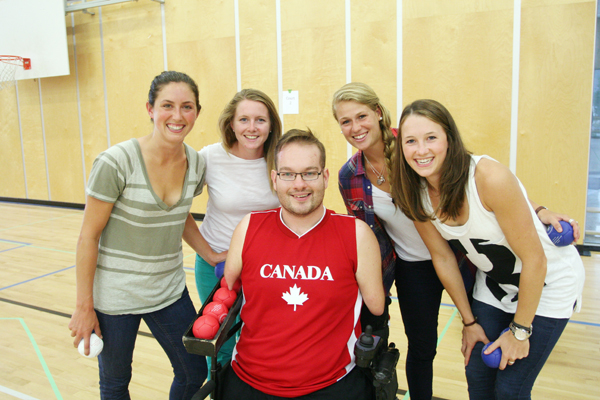 Paralympic bronze medalist Josh Vander Vies takes time to pose mid-game with his opponents, after being challenged to a match by members of the Canadian women's field hockey team.