The best boccia players in Canada faced off this weekend in Montreal, at premier boccia tournament – Défi Sportif.  National team newcomer Caroline Vietnicks showed poise under pressure with a commanding undefeated performance, winning the BC4 division.
A highlight of Défi Sportif, the BC4 boccia competition held at the Aréna Maurice Richard showcased the skill of national team members and hopefuls; it was Canada's highest calibre tournament since Montreal hosted the 2009 America's Cup last October.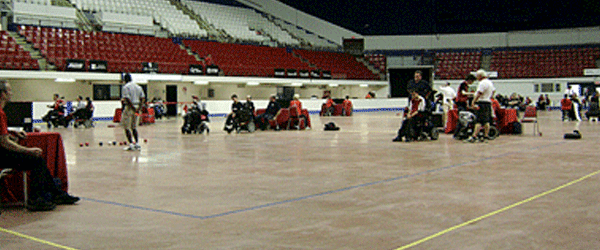 Friday, a hard fought BC4 pairs competition between Team Canada, Team Espoir (the Canadian feeder program), and an Open pair from Montreal and Moncton finished with Team Canada winning gold.  Team Canada members Jonathan Poulin, Caroline Vietnicks and (myself) Josh Vander Vies lost a great game in pool play to the Espoir pair of Dale Stevenson and Mario Babin, but clinched a win in the final, medal-deciding match.  Team Espoir won silver, giving the Open pair bronze.
In individual play Friday, Saturday and Sunday fans were treated to spectacular boccia.  In each match, players showed their exceptional skill, focus and strategy – pulling of daring shots and solid strategies.  Each game came down to the final balls.
Vietnicks stood out with an undefeated record.  In my match against her, I played solid boccia and lost 8 – 0.  Vietnicks played a near perfect game, and combined outstanding shots, with great strategy and focus.  As Team Canada, Jonathan, Caroline and I are looking forward to testing our skills at the Boccia World Championships next month in Lisbon.
Until then, we head back to the gym, and tighten up our game.
Défi Sportif boccia BC4 results:
Pairs

Canada (Gold)
Espoir (Silver)
Open (Bronze)

Individual

Caroline Vietnicks (Gold)
Josh Vander Vies (Silver)
Dale Stevenson (Bronze)
Jonathan Poulin
Mario Babin
Sylvain Comeau
French for "Sport Challenge," Défi Sportif is an annual multisport event that attracts elite athletes with disabilities from around the world.  Its 27th edition, continued to show off sport passion and excellence in Montreal and Canada.