Back row: Krista Robson (Sport Assistant), Carolien Legemaat (Sport Assistant), Mario Delisle (Coach)
Front Row: Caroline Vietnicks, Marco Dispaltro, Josh Vander Vies
The Canadian Boccia Pair of Marco Dispaltro, Josh Vander Vies and Caroline Vietnicks won second place at the 2011 Cheshire Building Society International Boccia Championships in Wigan this past weekend in the BC4 division.  The result is a strong one as the Canadian Pair prepares for the 2011 CPISRA Boccia World Cup, to be held in Belfast, Ireland at the end of August.
Canada, ranked 10th in the World, finished first in its pool after beating Wales 8 – 0, and a convincing 4 – 1 win over World number 3 Portugal.  In the quarter-finals, Canada took on World Cup bound Scottish captain Jamie McCowan and his teammate Jamie Docherty, defeating Scotland 5 – 2.
This led Canada to face Robert Durkovic and Martin Streharsky of the World number 6 Slovak Republic in the semi-finals.  Due to a technical error by the Slovak Republic (failing to report for the game in time) Canada won by default 6 – 0.
Through to the final, Canada finally met Cheshire rivals Great Britain, ranked number 2 in the World.  In 2007 at the Cheshire International, Canada beat Great Britain to secure a fifth place finish.  The rivalry must have been on the minds of the British McGuire brothers and teammates Peter and Stephen, as they came out hard, playing a near perfect game for the first three ends.  After rock solid first balls and lobs, Canada was down 7 – 0 going into the fourth end.  With a strong first ball and well placed lobs, Canada scored 2 in the fourth end, with a final score of 7 – 2.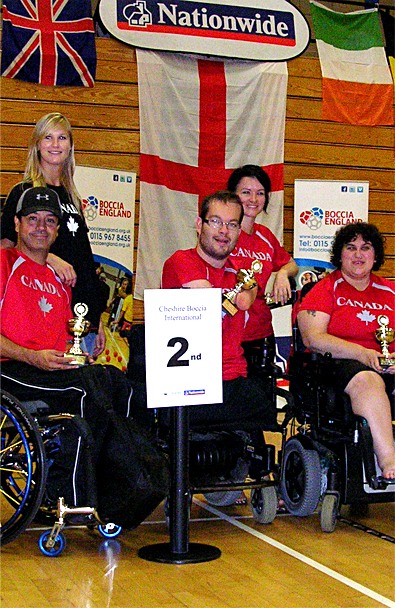 The final results of the BC4 division were:
1 – Great Britain
2 – Canada
3 – Portugal
4 – Slovak Republic
5 – Czech / Slovak Republic
6 – Scotland
7 – Wales
8 – Spain
9 – England / Scotland
"I am proud of how we worked together and played with calm and focus this tournament," said 2004 Paralympian Josh Vander Vies.  "We will take this success into the Belfast World Cup with us, and work even harder to improve our game.  The other teams in the World will definitely be thinking about Canada for the next 8 weeks."
For rookie Marco Dispaltro, the competition was eye opening.  "It's the first time that I saw international players in person. It's a higher level then what I'm used to in Canada but I was able to adapt very well."
Caroline Vietnicks, landed solid first balls throughout the tournament and stunned opponents with her devastating hits.  Excited for the Belfast World Cup, she looks forward to heading home and tightening up her game even more.
Boccia is a precision sport that is a part of the Paralympic Games.  Indoor boccia balls must be positioned closer to the target ball (jack) than the opponent's balls.  Athletes use strategies such as placing balls with millimetre precision, hitting and lobbing balls, and using angles to outsmart opponents.