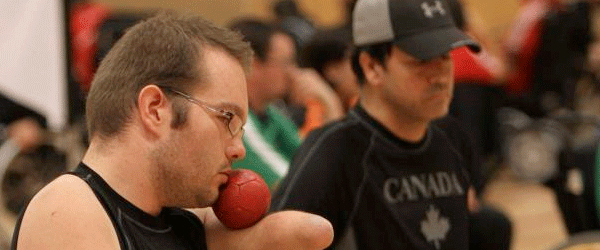 Today is my 35th day on the road.
When I left for Montreal on May 22nd, the upcoming European tour seemed impossible to finish – Barcelona, Povoa de Varzim, Porto, Wigan – it seemed like it would just last forever.  Today my portion of the tour with Team Canada came to an end.  Marco and I ended it yesterday on a reasonably high note, with a solid performance in Wigan at the Cheshire Building Society International Boccia Championships.
After all the balls were thrown, we finished third.  Like usual, we were very close to finishing higher.  This time, we were maybe less than a millimetre away.
After losing a tiebreak in our pool, against the very strong team Scotland, we had to face Great Britain in the semi-finals, instead of the finals like we did last year at the Cheshire.
In that match, both Marco and I made a high percentage of great shots.  Marco showed off his lobbing ability, where he lands his ball directly on top of the white target jack ball, moving it around to completely change the direction of the game.  I was able to place and bounce balls exactly where I wanted to – we scored 5 combined points on the two ends where we throw the jack and control its placement.
Unfortunately, the McGuire brothers from Great Britain also scored a combination of 5 points on their two ends, after some great placements and wedges from both of them.
This brought us once again to a Scottish overtime end (the McGuires, competing for GB are from Scotland).  This time, Marco placed a red ball directly on the jack, but just out of scoring range.  I was then finally able to jam it onto the jack and have my ball tumble behind.  We had three great balls close to and on all sides of the jack.
The McGuires were still able to place great shots in between the jack and our protection, to force a tie score.  This leads to alternating shots – normally whoever is furthest from the jack throws until they get closer or run out of balls.  We blocked the pile of balls with our remaining ball to force an error or a second overtime end.
This required Peter McGuire to open up the play, which he did very well.  Stephen McGuire then had to make a risky shot on the tied balls to either score 2 blue / 1 red for the win, or to slightly dislodge our red ball.  He wound up, released and nailed his angle.  There was also a huge risk of him giving us the point, and from our throwing boxes, the four of us thought maybe he had.  In the end, the millimetres were in GB's favour, as two of their rear blue balls were touching the jack completely, and our one front red ball was almost touching, but with a sliver of floor visible between it and the jack.
The McGuires won the match and went on to win the final against Scotland by a single point.  We were able to keep our focus after a disappointing result – but satisfying performance – in the semi-final and win the bronze medal match 6 – 3 against the second Slovakia team in the tournament.
The Cheshire International is doubles only, and we are very pleased with how we played.  Now, as Team Canada splits up, I say goodbye to Mark, my brother – who did a great job as my sport assistant over this last month, catch a ride with Team Argentina to Heathrow airport and start speaking in schools tomorrow.
The end of my tour is in sight.  I can't wait to meet all the students and teachers in Newham this week.  After that, I can't wait to finish preparing for the Paralympics.  It will be great to be home.