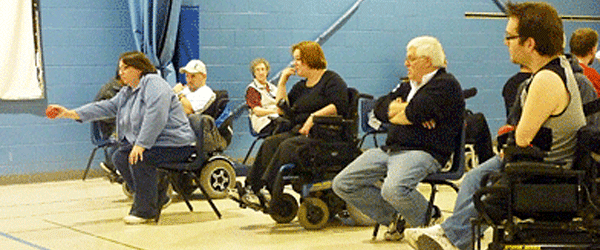 Final preparations were well under way for the Ontario boccia team as they prepared in London, Ontario, this past weekend, for the Canadian Boccia Championship to be held in Moncton, New Brunswick – from March 1 – 4, 2010.
After an intense training day, the provincial team, joined by boccia enthusiasts from across the province, broke into teams of three – to compete in a fun, and highly competitive, team only tournament. To learn about how team boccia works, see why Boccia is a Precision Sport.
The London Cup features entry for any player – including those without disabilities. I formed a team, with two rookies: my mom and dad!
After 8 teams battled it out in round-robin play, Team Vander Vies was in first place in Pool B. We played hard and smart in the semi-finals and won with a score of 10-5.
In the finals we faced the highly polished Mississauga Cruisers. After 5 ends, the score was 5-4 for the opposing team. The jack was mine for the 6th end, and I nailed my blue ball. Ed Richardson of the Cruisers made an excellent bust and moved my ball just far enough for Brock Richardson to make a beautiful game-winning placement. Anam Ahmed, who played solidly throughout the day, celebrated the victory with her team.
"I really appreciate the skill and focus of a boccia player," said first time player, and boccia mom, Sandy Vander Vies. "The pressure builds, and when it comes time to make a shot, it was very hard to control the balls. The sport is so much fun, and I enjoyed all the parts of it – strategy, waiting for my turn, making shots – from a whole new perspective."
Gary Vander Vies, an accomplished international boccia referee and first time boccia player, felt he did not play as well as he could have – despite the 2nd place showing. "It sure is a lot different being a player than it is to referee. Referees have the best seat in the house when it comes to watching a game. Athletes are in the hot seat trying to make the perfect play."
As for me, I am disappointed that we did not win the cup this year. I'm relatively happy with my performance at the London Cup, and ready to build on my drawing, pushing, busting and lobbing skills as I defend my national title in Moncton.