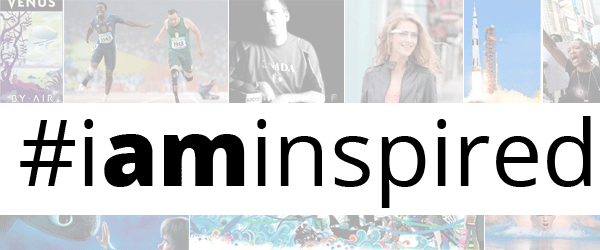 When I speak at schools and organisations, one of the most frequent questions I get from the audience goes something like this:
"You are really inspiring, but what inspires you?"
I have never had an answer that I have been satisfied with, and after a lot of reflection I think it is because I, like us all I hope, am inspired by a variety of things.  A few weeks ago I came across some really cool fictional space travel posters by artist Steve Thomas.  The art is simple and great, and they evoke a desire to explore space.
I found myself sharing the link on Twitter, and without really thinking typed #iaminspired at the end of the tweet.
Then I searched for #iaminspired on Twitter and found very few results.  Putting the # sign in front of text not separated by spaces makes a hashtag, which allows similar tweets to be searched by everyone.  So it got me thinking.  We all love to be inspired and motivated, why not share our finds with others?  From now on I will be adding #iaminspired to the end of tweets that I find especially inspiring and I hope others will join in.
The Olympics and Paralympics are coming up soon, so many inspiring performances and stories are sure to come.  Although sport is a big part of my life, it is not the only part.  I also love hearing and reading about great art, well written arguments, powerful activists, technological innovations and the other cool things happening around us.
That is what inspires me.  What inspires you?
See you on Twitter!