Eight years old, I was in my family living room, huddled around the couple inches of TV we had back then. The little feet I was born with were sweaty and gripping our hardwood floor.
Lane 6 at those Atlanta Olympics had my entire attention – focused even more laser-like after three false starts. We were waiting along with the whole world. The gun went off and they were away clean. Donovan Bailey looked like he was going to finish last.
Then he blasted across the finish line first through the announcer's yells: "Nine eight four, a world record for Donovan Bailey and a gold medal!" I jumped, and flexed my little boy shoulders and short arms and screamed just like he did. A gold medal for Canada.
I didn't realize that was where my journey in competitive sport began, until a Radio Canada reporter asked me at the London 2012 Paralympics, before I competed, "When did you decide to become an athlete?" The interview was in French, and I was already a few paces behind with my messaging. I paused, and blurted: "Bein, j'étais très inspiré par la médaille d'or de Donovan Bailey dans les 100m." I went on to tell the reporter that after seeing him win, I wanted to do the same thing.
If I had been born a few years earlier, or in a different city, I might not have been able to. Luckily, my parents already had me in swimming lessons, and we found the option of being competitive in the local disability sports team, the Sarnia Red Hots. The Olympics inspired me to be an athlete for Canada. The Paralympic movement gave me a path to do it.
On the Red Hots, I fell in love with beating my own swimming time, then beating other swimmers. At multi-sport disability events like the Windsor Classic Indoor Games for the Physically Disabled, I met other kids doing the same. I found shot put and discus and javelin there – throwing events I could compete in. I threw some of my first boccia balls in Windsor.
The memory of my first boccia games is like Donovan Bailey's win on TV. It is so clear and very fuzzy around the edges. I won all the boccia games, and took first place out of three junior players. One of my opponents was pretty upset, and my parents' words about him ring these years later: "Apparently he was used to usually beating all the adults." That felt pretty good.
There weren't many tournaments like my first. I spent most of my career as an elite athlete losing, and learning in defeat. I learned enough to pull off a bronze medal win with my doubles partner Marco Dispaltro in London 2012, but sport and the journey to that podium gave me way more than the medal.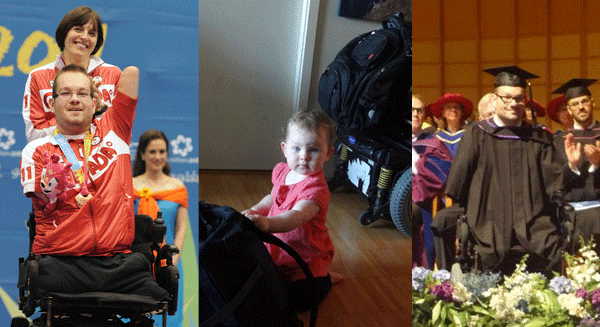 Sport introduced me to my beautiful wife. That means even our little Olivia is from sport. Sport got me travelling away from my parents so I knew I could survive at university away from the nest. Sport taught me to set hard goals and achieve them, so I went on to finish law school.
There are less and less multi-sport disability clubs like the Sarnia Red Hots now though. Disability focused sport events happen less and less in Canada, and it is becoming less clear how kids, especially disabled kids, can participate in sport and have the choice to become athletes. I worry that other kids like me won't have the opportunities that I did. Sport participation is plummeting across Canada. Only 3% of disabled Canadians participate in sport.
You can help me make sure current opportunities are strengthened and new ones built, by supporting the Canadian Paralympic Committee (CPC) with me. They are asking for our help this month in raising funds.
After working as a summer law student last year at a top Canadian charity law firm, my thoughts on giving and charity were transformed. I learned that charity is not just about the weird feeling we get when those infomercials show suffering cute animals, or third world children. Charity can have an impact.
CPC sponsors are doubling the first $30,000 in donations for this campaign – Playground to Podium. I donated $250 of my own money to give back to a cause that gave me my path in life.
Please help build future Canadians – more healthy ones, and international medalists – by donating along with me, to my campaign giving group here, or through the image below.